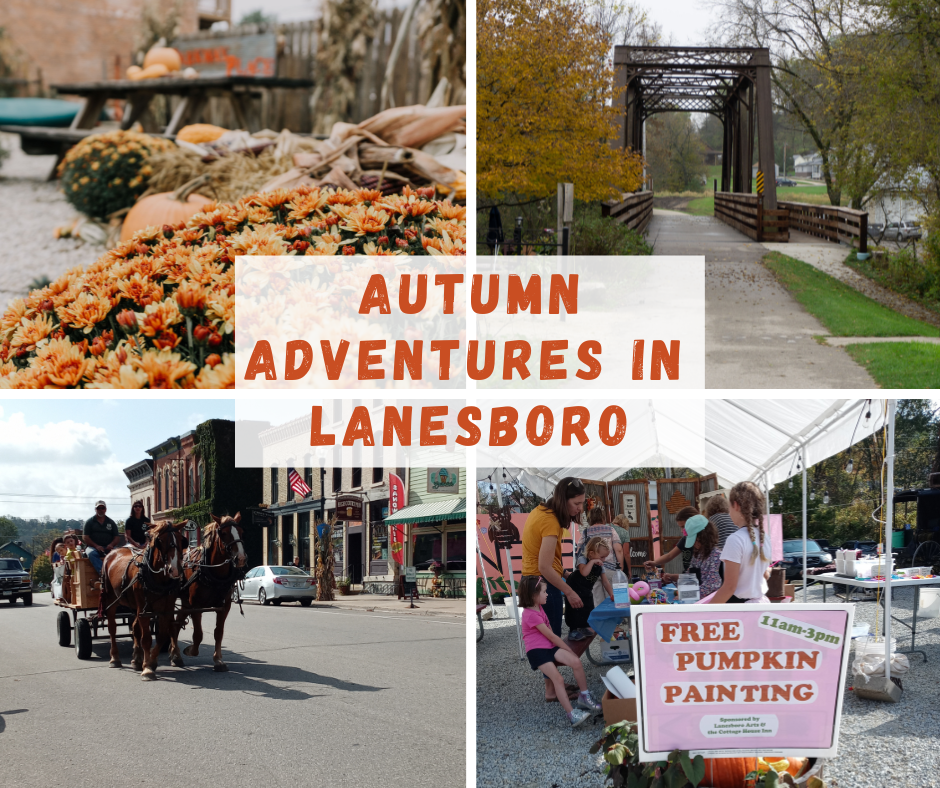 September is here and the season begins to change, but not before one last (hopefully) heat wave. Fall is a beautiful time to visit bluff country (aka the driftless, aka karst country, aka my favorite place on Earth), to witness nature display her colors on our oaks, maples, birches, aspens, catalpas, basswoods, hackberries, and more. Thanks for bearing with me, I love my trees, and I need to exercise my horticutlure degree and its memorization of trees and scientific names!
In anticipation for pumpkins, pumpkin spice, combines (share the road), Halloween candy, apple cider, shackets (are they still in?), and more, here is a list of fun Fall activities for all to enjoy!
Fall Events
September: Root River Trail Towns is featuring various activities in each trail town this September. Visit the full list here.
Sept. 15-16: Root River Trail Towns hosts the 60 Mile Garage Sale over this weekend in the trail towns. Visit their website to see the maps after Sept. 8.
Sept. 15-16 and Oct. 6-7: The Lanesboro Area Art Trail returns. Visit artists' studios throughout the Lanesboro area.
Sat., Sept. 23: The Fall Boutique & Business Crawl and the Fall Craft Beer and Wine Fest are back on the same day this year. There are local artists/vendors at Parkway Place this year. Pick up a bingo card at one of Lanesboro's shops or restaurants and shop/eat/drink throughout town. Turn your card back in for a chance to win one of many door prizes. Visit the calendar listing here for more details.
Sat., Oct. 7: Fall Into Lanesboro. Lanesboro's family-friendly fall event is back for another year of crafting, wagon rides, scavenger hunt, latte sipping, dining, shopping, and more! Two local authors will present "Lanesboro History in 60 Minutes" at Sons of Norway at 3pm. Best part - all of the activities are free! Bring the family (all ages) to Lanesboro on Oct. 7.
Sat., Oct. 14: The Filthy 50 road bike race is back in Lanesboro. If you want to witness 1000 riders start and stop their journey in downtown Lanesboro, be here in the morning to help cheer the riders on as they leave town. The energy and enthusiasm of this event is something you will remember.
Tues., Oct. 31: Downtown Trick-or-Treat in downtown Lanesboro! Businesses open their porches and doors for Lanesboro's trick or treaters from 3-5pm.
Wed., Nov. 22: Do you like bowling? Want to try bowling with a frozen turkey? Come to High Court Pub on the evening of Nov. 22 for some great fun and to help Lanesboro high schoolers raise funds for their class trip or other needs.
Two Must-Do Autumn Adventures
Blossom Hill Orchard and Farm in Preston (right on US Hwy 52) will give you all the Fall feelings with apples, gords, pumpkins, mums, and the best apple turnovers I have ever tasted in my life (along with pies, apple cider donuts, caramel apples, cookies, kolaches, hamantaschen, and so much more. You don't want to miss the smells, sights, and tastes of Fall found at Blossom Hill.
Big Springs Farm Pumpkins & Corn Maze outside of Lanesboro is the must-do-fall-activity-of-your-life! This farm family puts on the best corn maze in the state of Minnesota (my humble opinion) with a new design each year and a new scavenger hunt in the maze each year. This year's theme features a lot of emojis! New this year is a one-acre sunflower field (photo op anyone?) and cut flowers - they hope this new feature will last through September. And then of course there is pick-you-own-pumpkins, gords, corn pit, zip line, jump pad, hay rides, duck races, playground, farm animals, concessions (you won't go hungry) and so much more. Visit their website for the most up to date info and pricing.
Get your fill of all things Fall in beautiful bluff country. We are just two hours from the Twin Cities (thank you US-52), three hours from Madison, WI, 3.25 hours from Des Moines, and 3.75 hours from Sioux Falls, SD; we are your local getaway and relaxation oasis. Visit lanesboro.com to plan your trip today! Don't hesitate to call us either (507-467-2577) - a real person will answer the old-fashioned land-line - and we are happy to help plan your getaway trip to Lanesboro.